M8 captive nuts & stainless steel cage nuts suppliers.
Imperial captive nuts, m4 captive nuts, earthing cage nuts outlet in Mumbai.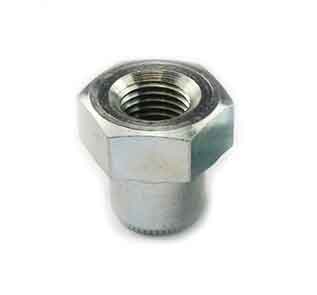 Stainless steel captive nuts
Types of captive nuts and best quality grades G type cage nuts.
Stainless steel captive nuts consists of a nut, usually square, in a spring steel cage which wraps around the nut. Captive nuts are also known as 'Cage Nuts' or 'Caged Nuts'. Floating cage nuts has two wings, when the two wings are compressed, it allows the cage to be inserted into the square holes, an easy example is, it is used in the mounting rails of equipment racks. When the wings of M8 captive nuts are released, they grab the nut in position behind the hole.
We're producing and distribution blind captive nuts and G type cage nuts at lowest and competitive price. Our latest technology helps us in manufacturing newer design of captive nuts featuring a squeeze and release tab  which allow tool-less installation.
Specification of Stainless Steel Captive Nuts
Product name
Stainless Steel Captive / Cage Nuts
Place of Origin
India
Stainless Steel Captive / Cage Nuts Size
M2-M60, UNC:1/4"-4"
Stainless Steel Captive / Cage Nuts Length
6mm-500mm
Specialized manufacturer of
Din934 Hex nut, DIN6923 Flange hex nut, DIN985  Nylon lock nut, DIN1587 Cup nut, DIN315 Wing nut, Main products are Stainless steel bolts and nuts, SS 304 bolts and nuts, 304 Nuts and bolts, 304 bolt nut, 304 nut bolt, 316 Bolts and nuts, 316 hex nuts, 316S31 bolts and nuts.
Standard
DIN934 DIN936 DIN439 DIN555 A194 2H ASTM A563
Grade
4, 8, 10, AISI 2, AISI 5, AISI 8
Stainless Steel Captive / Cage Nuts Application
Wind tower, Nuclear power, Railway, Automotive industry, Construction, Electronic industry
Stainless Steel Captive / Cage Nuts Material
18-8 Stainless Steel, Stainless steel 201, stainless steel ss 304/ SS316 A2/A4, SS201, SS303, SS304, SS316, SS316L, SS904L, A2-70; A4-70; A4-80
Thread Requirements
ASME B1.1, UNC & UNF, Class 2A (Fastenal will inspect and accept parts with a 1A no-go gauge)
Finish
Per ASTM A380/A380M
Finishing
Zinc Plated (Yellow, White, Blue, Black), Hop Dip Galvanized (HDG) phosphorization, Black Oxide, Geomet, Dacroment, anodization, Nickel plated, Zinc-Nickel plated, Brass Plated, Tin Plated, Black Plated, Copper Plated, Gold Plated, Salt fog test
Stock Products
Stainless steel: All DIN, GB Standard and part ASNI standard stainless steel Captive / Cage Nuts, Example: ISO7380, DIN7981, DIN7982, DIN916, DIN913, DIN7985, DIN912
Production technology
Cold Forged
Manufacturing Process
Wire Drawing, Cold Heading, Insert tapping, Heat Treatment, Surface Plating, Inspection, Packing
MOQ
10 pieces
Delivery time
Regular product is about 7-15 days, custom product will according to special requirement
Others
OEM, ODM, ±0.03MM tolerance
Surface treatment of stainless steel Captive / Cage Nuts

Passivation
Polish
Anodizing
Sand blasting
Electroplating (color, blue, white, black zinc, Ni, Cr, tin, copper, silver)
Black oxide coating
Heat-disposing
Hot-dip galvanizing
Rust preventive oil

Captive / Cage Nuts Specifications

SAE J995 Mechanical and material requirements for steel Captive / Cage Nuts.
ASTM A194 Carbon and alloy steel Captive / Cage Nuts for bolts for high pressure and high temperature service
ASTM A563 Standard specification for carbon and alloy steel Captive / Cage Nuts
ASTM F594 Stainless steel Captive / Cage Nuts

Coatings
Black Oxide, Cadmium, Galvanized, Teflon, Xylan, Zinc, Others Upon Request
Tolerance of stainless steel Captive / Cage Nuts
+/-0.01mm to +/-0.05mm
Samples
Yes
Production Capacity
2,700,000 pieces per month
Payment Terms
T/T, Paypal, Western Union, L/C or Trade Assurance 30% deposit & balance before shipping
Specialized in
SS Hex Finished Nuts ~ Hex Jam Nuts ~ Heavy Hex Nut ~ Hex Machine Screw Nuts ~ Stainless Steel Lock Nuts ~ Nylon Insert Lock Nuts ~ Serrated Flange Lock Nuts ~ Captive / Cage Nuts ~ Cap Nuts Stainless Steel ~ T Nuts ~ Hex Rod Coupling Nuts ~ Wing Nuts ~ Square Nuts